The Spine Store
DaVinci Laboratories | Thorne® Research | Other Pharmaceutical Products | Spinal Products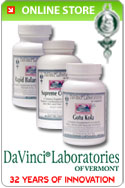 Most of us work and live a very hectic and stressful life. Besides developing poor postural patterns due to a lack of proper exercise and long work hours, we also many times are unable to eat the proper amounts of macro and micronutrients necessary to maintain optimal health. Luckily, there are nutritional supplements to help make sure we get what we need. It is important to remember however, that 'nutritional supplements' are just those...additions to our diet. This means that nothing supplants the importance of a proper diet. However, due to the fact that very few of us eat properly on a daily basis, we are fortunate to have products that can 'supplement' our diet so that we can help maintain our health.
Many times supplements are geared toward treating particular conditions. Most of us have seen on TV or heard on the radio about certain 'supplements' that will treat certain disease processes or conditions. Although some of the claims make a certain amount of sense, it is important to realize that any product you ingest should be discussed with your doctor.
We at Columbia Advanced Chiropractic, LLC are firm believers in eating a proper diet. However, when this is not the case, (as it unfortunately most of the time is) we are proponents of supplementation. We sell products for general health and nutrition as well as supplements for joint and soft tissue health. It is of utmost importance to be certain that the body has what it needs to maximize healing. Unfortunately, most people do not have an optimal diet for tissue healing.
Dr. Manison provides products from a few high quality companies. The companies he feels produce the best quality nutrients are Thorne® Research (www.thorne.com), Parrillo Performance (www.parrillo.com), Molecular Fitness (www.molecularfitness.com), DaVinci Laboratories (www.davincilabs.com), and Barlean's Omega-3 oils. Dr. Manison has many products from Thorne®, Parrillo, Molecular Fitness, Barlean's, and DaVinci in inventory in the office. If you wish to get access to the entire Thorne line, Dr. Manison can provide you with an account number so that you can do so.
It is important at this time to discuss the difference between 'store' brands and the products Dr. Manison provides. Dr. Manison provides pharmaceutical quality products. This means that the manufacturers have a high level of internal quality control and tend to only sell to physicians. These products, although they tend to be a bit more expensive, will offer the highest quality ingredients with claims met for what is posted on the bottle. Being there is limited FDA regulation in the supplement business, it is very difficult to be certain if the supplement you are taking actually has what it says is in the bottle. In fact, studies have shown that a majority of 'store' brand products fall short on their claims of what is in their nutrients and tend to use other unwanted ingredients to 'fill' the space. Pharmaceutical products, such as DaVinci Labs and Thorne® Research, are pure and contain what they print on the bottle. In fact, Thorne® Research is one of the only nutrient companies in the country that is allowed to print 'hypo-allergenic' on their bottles. This signifies that their products are truly pure and contain nothing that adversely affect the person taking the product. This is especially important for those who have allergies or inflammatory arthritides as these people will tend to adversely react to other ingredients commonly found in inferior quality product lines.
If you would like to obtain Davinci products, please 'click' the DaVinci link and you will be able to order directly from Davinci Labs. Please note that you cannot order from DaVinci directly without using this link.
If you would like to order Thorne products, please contact us for a HCP number that you can use to order directly from the company. Without this number, product cannot be ordered.